You're upgrading it over my dead body
It is difficult for me to imagine being greeted by a more terrifying sign than this one at a tech convention: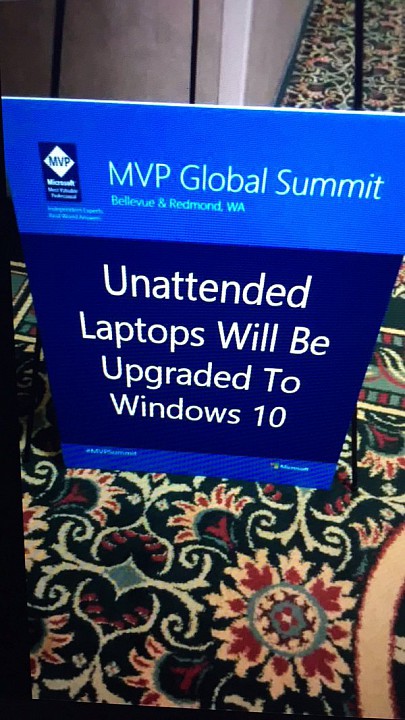 (Courtesy of
whotrades
)
It is hard for me to put into words just how much I loathe Windows 8 and above. In operating system terms, it is the approximate equivalent of AIDS- except that AIDS can be managed with an appropriate blend of anti-retroviral drugs, good eating, clean living, and careful behaviour.
With Windows, however, the moment you get it, you are boned.
Or at least, your computer is. The amount of stupid, useless bloatware the damned OS will install on your PC is just not funny. It has been a common experience in my family for people to start out with lean, mean, data-crunching machines that turn into fat pigs in the space of, like, 6 months.
That is a lot like marrying Heidi Klum in her prime- and 6 months later she's turned into Lindy West.
(I thank the good Lord above that my search for "Lindy West" did not turn up any bikini shots. My stomach is pretty strong- it would have to be, to handle Indian food as prepared for Americans- but that would be way too much for it.)
Honestly, there are only three things for which you really need WinDOZE.
First is Microsoft Office- specifically, the embedded programming language known as Visual Basic for Applications. It is the accepted industry standard for writing spreadsheet-based and document-based applications in particular, with embedded macros that a decent programmer can use to make a document sing and dance- and that a bad programmer can use to destroy an entire company.
(I do not exaggerate when I call VBA one of the most dangerous toys ever created. It is a toy of a language compared to something more structurally sound and syntactically demanding, like JAVA or C++ or Python. And its lack of basic security features makes it an exceptionally effective way to blow up a database or wipe out a directory of important files.)
Second is CAD software or graphics design. Open-source alternatives for Linux and BSD just don't compare with the paid programs that you can use on Windows- not that I am aware of, anyway.
Third, of course, is computer games. But a lot of that has become platform-agnostic, and even the PC gamer "master race" has to admit that the console untermenschen (read: folks like me) aren't exactly hurting for choice in the console wars.
Beyond that, though... pretty much everything you need a personal computer for can be done on platforms that don't bloat, don't crash, don't blow their tops for no reason, don't do completely retarded shit with your files and settings at random, and don't take three hours to update every time a bug fix comes out for some new issue that Microsoft got totally blindsided by (again).
Which is why I, for instance, use Linux at home. The only reason I have a WinDOZE partition at all on my laptop is because my remote connection to my office PC ONLY works on a WinDOZE partition. And if I could be arsed, I could setup that connection on a virtual machine installation within Linux itself.