This should be a good fight
Every straight male on Earth is going to want to get a good look at the title fight between Holly Holm and Miesha Tate on March 5th. And with very good reason: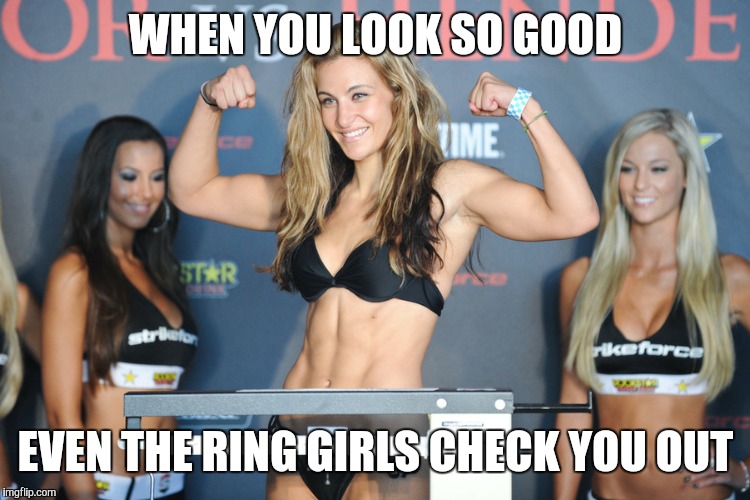 As for Holly Holm- it's a matter of opinion, but I personally think she is actually a rather fetching lady. She's no supermodel, certainly, but she's definitely in great shape.
However, I respect Holly Holm far more for her skills, personality, and demeanour than I do for her looks. She is a humble, soft-spoken, gracious woman- yet she is also confident, strong, talented, and exceptionally skilled.
"Cupcake" represents a very interesting challenge for "The Preacher's Daughter". Unlike Ronda Rousey, who basically only knows how to bull-rush forward and evidently has rather poor fundamentals in her striking arsenal, Ms. Tate transitions well from striking to ground-fighting. She scrambles very well and, as Ms. Holm herself has pointed out, is very tough; you don't fight through a fractured orbital bone if you don't have guts and strength of will.
She is a wrestler and grappler by background, which means that if (more like when, really) the fight goes to the ground, Ms. Tate will be the heavy favourite to win.
Her skill-set therefore presents a lot of problems for a highly skilled striker like Holly Holm. When you put a wrestler or grappler against a striker, generally speaking, the grappler is likely to win- provided she gets the striker down to the ground in a hurry, and provided the striker doesn't know how to respond.
The thing is that Ms. Holm is a very skilled striker- as she showed in her fight against Ronda Rousey, she is very good at using her strikes to open up and maintain gaps with her opponent. She is also no chump on the ground- she didn't get out of that takedown in the first round by accident, she got out of it because she knew how to defend from that position.
It would be all too easy to speculate that, just because Ms. Tate is a grappler and Ms. Holm is a striker, Ms. Tate would win- in fact, she goes into Saturday's fight as the heavy underdog. However, the days when the UFC was populated by one-dimensional martial artists have long since vanished into memory. These days, it is possible for a grappler to be beaten by a striker- which is precisely what happened when Holly Holm planted her shin-bone firmly into Ronda Rousey's jaw and neck last November.
To be a true mixed martial artist today requires a complete set of skills- not just grappling, not just striking, not just jiu jitsu, not just muay thai, but ALL of them.
And if Ms. Holm's epic victory at UFC193 tells us anything, it is that Ms. Holm has skills in many different areas. Her striking is a thing of beauty to watch. As a result, I am very much looking forward to seeing what she can do this Saturday night.
I expect her to win, but if Miesha Tate proves me wrong, that could make things very interesting indeed.