"Sometimes the bull, he wins"
If only...
A woman finds that grabbing a bull by the horns may well end very, very badly:
A female bullfighter was gored twice by the same bull while trying to kill it in a Mexico City bullring.



A 1,090lb-bull named Gamusino threw Karla de los Angeles up over his head on Sunday as she went in to kill it at the Plaza de Toros de Mexico, BBC reported.
de los Angeles was treated by medics before going back to fight, when she was gored a second time by Gamusino, according to the news outlet.
According to the BBC, cuts of 4.7inches and 3.9inches were made to the 25-year-old bullfighter's thigh and gluteal muscles during the battle.
Federico Dominguez, de los Angeles' assistant, was also gored by the massive bull, BBC reported.
Gamusino injured two different assistants as well as a farmer after he leaped over the ring and went into a walkway, according to AFP. One of the assistants reportedly had a concussion and is in serious condition.
5,000 people went to the bullring on Sunday, as part of a ten-day event, the wire service reported.
Speaking to Picture Radio in Spanish, de los Angeles said 'I'm sad because I could not cut off an ear and I could not kill a second bull.'
De los Angeles also stated that she and three people that Gamusido wounded are in the hospital.
'It was [a very bloody run], there were many mishaps, thank God, so far as it goes, we're fine,' she told Picture Radio. 'You have to accept it as it is, to recover and what comes.'
de los Angeles' Facebook shows that in addition to being a female bullfighter, she is also the mother of a young girl.
AFP reported that it was the first time three female Mexican bullfighters participated in the event at the Plaza de Toros de Mexico.
Look, no messing about here- first and foremost, I wish good health and a speedy recovery to those injured in the bullfight; to say otherwise would be churlish.
Also, is there any tradition in Spanish culture that allows for bulls to be pardoned or something for being, well, badasses? I mean, if you know anything about bullfighting, you'll know that it's a nasty, bloody, beastly business. It's damned dangerous for the torero but it usually- though, as in this case, not always- ends in the bull's death. I'd say the bull's performance earned him a governor's pardon from death row, wouldn't you?


Ole!!!
With all of that being said- the other major question on my mind is...
WHO THE HELL in his RIGHT MIND thought that putting a WOMAN in a ring with a half-ton of VERY RARE STEAK was a GOOD IDEA?!?!
Indeed, it's bad enough that one female bullfighter was gored twice in the process of proving that the Big Strong Girrrrrls are every bit as good as those Horrible Mean Icky Boys at doing insanely dangerous things. But as it turns out, Senora de Los Angelos was not the only female torero who got hurt yesterday:
Two female Mexican bullfighters, one a single mother competing for the first time in three years, have been gored in a bloody annual festival.
The two fighters, Karla de los Angeles and Lupita Lopez, were taking part in an all-women event called the "festejo de damas", alongside Hilda Tenorio. The event was staged at one of the world's biggest bullrings, Plaza Mexico.
De los Angeles, one of Mexico's best-known female bullfighters, was fighting for the first time since she withdrew from the sport in 2011 to look after her young daughter.
Before the fight, she had spoken of her dream of becoming a matador - a master bullfighter - and made national headlines by saying "being a mother is not an impediment".
During her fight, the 25-year-old was struck twice by the bull, known as Gamusino. The first injury came when the animal tossed the fighter over its head as she went for the killer blow. Despite the injuries, De los Angeles managed to resume the battle, only to be badly gored once again shortly after the resumption.
The horns of the bull - which reportedly weighed around 495kg - pierced De los Angeles' thigh to the depth of 12cm as well as leaving her with a 10cm cut across her gluteal muscles.
According to the BBC, one of the fight assistants, Federico Dominguez, was also attacked by the bull while attempting to help De los Angeles. The severity of Dominguez's injuries remains unknown but they are not thought to be life-threatening.
Lopez, meanwhile, was injured while going for the kill in her own fight. The bull gored her in the right thigh, leaving her to require hospital treatment. Again, it is not known how severe her injuries are.
In my travels I've come to see that a culture's, or society's, worthiness is often determined not by how much it lets its women get away with, but by how much it tries to protect its women from their own stupidity.
By that standard, judging by this particular unfortunate episode, the Mexicans- already struggling to maintain any semblance of civilisation amid a rapidly degenerating fratricidal drug war- may well be doing better than most "developed" nations, but they're still falling prey to the absurd notion that women can do everything that men can as well as if not better than them.
What exactly is "empowering" or "affirming" about letting a mother of a young daughter, who hasn't been in the bull-ring for three years, face off against 495 kilograms of raging bull? Where is the positive message in that? Ms. de Los Angelos's claim of motherhood not being a barrier has fallen flat on its foolish face; she herself is badly, though fortunately not critically, injured; and her very young daughter ends up paying the price for her mother's desire to pursue a very dangerous dream.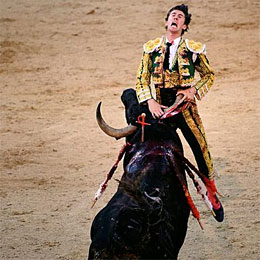 That's gonna leave a mark...
Now, if you operate on the (completely unsupported) theory that men and women are equal- i.e. equal in speed, strength, agility, endurance, tolerance of risk, and general badassitude- then there would be no reason to oppose the idea of women getting into the ring as bullfighters.
If, however, you realise the truth that men are expendable (by and large) while women are precious, you will immediately understand that allowing a young mother, or a potential mother, to risk her life and the lives of other men in the ring as a bullfighter isn't just stupid, it's downright insane.
If a man chooses to go into bullfighting, all well and good. He's nuts- there happen to be very good reasons why the Darwin Awards tend to be so heavily dominated by men- but that's his problem. After all, if you look at men coldly and impersonally as simple sperm generators, a ratio of one man to every ten, twenty, or even thirty women is more than sufficient to ensure the continuity of the species. (It also ensures that said single man will thoroughly enjoy himself.)
But if a woman chooses to go into bullfighting, she's not just risking herself; she's risking the lives of future generations that would otherwise come from her. Until and unless artificial wombs are invented, that will always be the case- and I strongly suspect that artificial wombs may well come about at roughly the same time that realistic female sexbots do, at which point women will simply become accessories and egg-providers.
Therefore, I ask again: what sane society allows a woman to expose herself to such risks in the name of art and sport, when the consequences are so devastating?
Answer: a society well on its way to collapsing under its own decadence.
A young man stopped at a local restaurant after a day of roaming around in Mexico.
While sipping his tequila, he noticed a sizzling, scrumptious-looking platter being served at the next table.
It looked good.
It smelled good.
He asked the waiter, "What is that you just served?"
The waiter replied, "Ah senor, you have excellent taste! Those are bull's testicles from the bull fight this morning. A delicacy!"
The visitor, though momentarily daunted, said, "What the heck, I'm on holiday down here! Bring me an order!"
The waiter replied, "I am so sorry senor. There is only one serving per day because there is only one bull fight each morning. If you come early tomorrow and place your order, we will be sure to save you this delicacy!"
The next morning, the man returned, placed his order, and then that evening was served the one and only special delicacy of the day.
After a few bites, and inspecting the contents of his platter, he called to the waiter and said, "These are delicious, but they are much, much smaller than the ones I saw you serve yesterday!"
The waiter shrugged his shoulders and replied, "Si, Senor. Sometimes the bull he wins."